By Rita La Rosa Loud, B.S.
I bet you know what I was about to say. Yup! … "Turn your life around with exercise!" I thought older adults might like to hear reasons individuals with an aversion to exercise made the decision to finally jump on board. I recently posed this question to senior members in our Wayne Westcott, Ph.D. Center For Health and Fitness. Before I rattle them off ..
Many explanations come to mind why so many choose not to exercise. Shyness, for one, is huge, and one that I can relate to. I remember feeling self-conscious while training at a gym, not wanting to appear incapable of performing the exercises correctly in front of others. Frankly, no one paid me any attention, all were intently involved in their own workout(s). Well, one person was watching, and it was the trainer. Wouldn't you know, I gained confidence in my abilities as I got used to the exercises and being around others there for similar reasons. To get strong and fit, not to mention, the added benefit of making new friends.
Older adults are under the impression that it is too late to make any beneficial progress, another common reason they avoid exercising. However, the good news is it is a myth. This population can build strength (and muscle) just as easily as a younger person. But I digress. In fact, seniors on the advice of their PCP to "join a supervised fitness program," found themselves feeling stronger and wishing they had started sooner. My own husband for many years did not exercise. When I convinced him to commit to training at the gym just one day a week, he liked it so much that he soon went two, then three days on his own. He is now a regular exercise enthusiast, and as a result, at the age of 71 is currently not on any medication.
Beginning with my husband, Paul, below are some real stories from real people who made the decision to engage in our resistance training, aerobic exercise, and stretching program at Quincy College.
Real People Real Stories
Paul L. Loud, Age, 71: "Many years ago, my wife, Rita, asked me at what frequency would I agree to perform exercise. My response was, even though I have a busy schedule, I would try. So, she signed me up for a 10-week program that meets once a week. It was on a Saturday morning at 6:00 AM. I had no choice but to give it a shot. Actually, one day of exercise a week did not sound that difficult to fit in. Day one began with a body composition assessment and an introduction to strength training, cardiovascular exercise, and stretching. Gee! One down, not a bad start, I thought, and surprisingly the weeks went by quickly. I definitely can find time to continue this. I enjoyed it so much that I went two times a week, which ultimately led to three days per week. You see, time was available. Evidently, I was not managing it efficiently. I will be forever grateful to those who got me started, trained and coached me. Having other participants encourage you along sure helps."
Louise Doty, Age 72, Seated Leg Curl Machine: "I really do not like to exercise.  For someone who was inactive, I got along pretty well until I was 71, when I had to have a total knee replacement.  Then, at age 72, my other knee began to bother me.  I also started experiencing rotator cuff problems.  I knew it was time to do something about it.  I heard about the senior group fitness center at Quincy College where they provide individualized hands-on support.  I decided to give it a try.  Right away I knew I had made the right choice.  A few weeks into the program, I started strength training, and immediately felt like I was making progress.  I already could feel the difference!  As an aside, once I got myself in the car, I was good to go.  I can truthfully say, when I arrive at the fitness center, I really enjoy exercising.  And, when I get home, I feel great, and so glad that I did it.  I even sleep more soundly now.  My entire family is grateful that I am exercising, even my 23-year-old niece at Thanksgiving told me she was so happy that I was participating in this exercise program."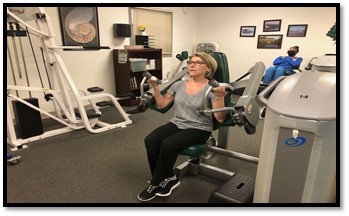 Patricia Leavitt, Age 65, Biceps Curl Machine: "In my 20s through my 30s, I stayed active with cycling, hiking, and other group activities. But, in my 40s, personal time constraints made it difficult to commit to regular workouts. My main source of exercise for years was brisk walks 2-3 times per week. However, over time, I noticed I no longer felt as fit or strong as I did in my youth. I realized I needed something more. Not knowing much about resistance training, it sounded like a "guy's" workout, and having no expectations, I tried the Quincy College Fitness Center program. From day one I was hooked. Training on the strength equipment, I gained muscle definition, and within a few months, I felt stronger and more energetic. I am happy to say that over the past six months, I increased my strength, and improved my balance, as well as my overall feeling of wellbeing. Since I am predisposed to osteoporosis, I am very excited to increase my bone density with resistance training. I highly recommend you give it a try!"
Paul Phelan, Age 58: "Have no fear. Take that first step. You will not regret it. It is a time dedicated for yourself. To improve your present health and fitness, especially your future wellbeing. Honestly, the hardest part for me is getting dressed to exercise. I came to the Quincy College fitness center to improve my golf performance and to my delight the strength exercise has been a huge help in improving my golf drive (swing). I have become much stronger and even experience fewer aches and pains after many rounds of golf. For me, resistance exercise has certainly been worth it. I have been attending this program twice a week for over a year and appreciate that the trainers ensure I am training correctly. My advice to anyone considering beginning exercising is have no fear, you will be in good hands."
Rebecca Stutzman, Age, 58: "I never thought of myself as a "gym" person. I have always been active throughout my life playing sports and enjoying outdoor activities. Raising two children as a single mother kept me extremely busy. Like many moms, I focused on my kids rather than myself. Now that I am an "empty nester," it was time for me to concentrate on my health and fitness. As I entered into my 50s, I learned about the importance of strength training and its benefits on bone health. My daily walking was not enough and joining the fitness center at Quincy College has been a great addition. Using the machines and weights is new to me and, at first, seeing the equipment was a bit intimidating. However, the professional trainers taught me how to exercise safely and effectively. Once you start, it does get easier. In just a few months, I have improved my posture, balance, and overall strength. I cannot wait to see more results as I continue my fitness journey. It is never too late to start exercising!"
HOW TO GET INVOLVED
No matter your reason for being on the fence about exercising, your age, gender, or physical ability, everyone can benefit from engaging in some form of physical activity. We hope these real stories by real people will spark your interest in participating in a strength training, endurance exercise, and stretching program. So, why not start your New Year off on the right foot with us at Quincy College's Wayne Westcott, Ph.D. Center for Health and Fitness. We arelocated at President's Place, 1250 Hancock Street, Lower Level. Call 617.405.5978 to tour our facility and receive your free complimentary training session. 1- and 2-hour free parking is available on Hancock, Coddington, Washington Streets with a parking garage next to the building for a nominal fee. Rita La Rosa Loud holds a B.S. in Exercise Physiology with additional education in Sports Medicine and Athletic Training. She is NASM Certified and has been actively involved in the fitness industry for over 35 years. She is also an author and writes fitness related articles for various fitness publications. Currently, she is a Fitness Researcher and Directs the COVID compliant, Wayne Westcott, Ph.D. Center For Health and Fitness at Quincy College. She can be reached at 617.405.5978 and is available for spea