By, Rita La Rosa Loud, B.S.
The title says it all. However, it is not a concept that many seniors realize about these two very important fitness components. Stretching and strengthening actually complement one another in a way that surprised even us! Based on three studies we conducted combining stretching exercises with strengthening exercises, we presently provide a unique way of incorporating stretching into our fitness programs at Quincy College, which is unlike conventional stretching exercises performed on the floor or mat. But first, a little background information.
These three studies came about for a number of reasons. It became obvious to us that people were skipping the flexibility piece of their fitness routine. Many thought it was too time-consuming, that there was not enough room to stretch, or felt it unnecessary to do so. Of course, we beg to differ. Although it is understood that stretching increases joint flexibility, it has been shown that strengthening muscles in a full range of joint movement increases both muscle strength and joint flexibility. That is, as one side of the muscle contracts, the opposing side lengthens, which is of great benefit. However, we were curious as to what might happen to muscle strength when combining stretching with the strength exercises. The question was, would adding the stretching with the strengthening make us even stronger?
Here is a brief summation of merging stretching exercises to a strength training program.
Strength and Stretch Studies
We led a total of 155 adult men and women, average age 51, to participate in three separate Strength and Stretch Studies. One group performed strength training only, while another group performed strength training and static stretching two or three days per week for 10 weeks. Both groups performed the same basic 12 machine-based exercises for the major muscles of the hips, thighs, buttocks, chest, back, shoulders, arms, low back, abdominals, and neck. But the stretches were performed using two different methods. One group performed stretches on the strength training equipment immediately after completing each of twelve strength exercises in a distributed manner, referred to as At-Machine Stretching. The other group performed the stretches after completing the entire 12 machine-based strength exercises, in a consolidated manner, on a webbed flexibility piece of equipment, known as a StretchMate.
At the beginning and end of these studies, we assessed for muscle strength and discovered that the subjects who performed both the stretching and strengthening exercises gained approximately 20 percent more strength than the subjects who did not include either stretching approaches—At-Machine (distributed) or StretchMate (consolidated) stretches—with the strength training exercises. What a surprising but beneficial outcome!
To sum up, out of the 155 participants, 36 subjects performed strength training only, and the remaining 119 partakers performed strength training combined with either the distributed or consolidated stretching. For more in depth specifics about these three distinct studies, search for my October 2021 article, S T R E T C H … To Be Strong AND Flexible.
Fitness Center Stretch Protocol
Naturally, as a result of the three studies, stretching remains as a fundamental component of our fitness center programming. Senior exercisers unequivocally enjoy the stretches, which only add five minutes to the workout. Recognizing its value for strength and flexibility, they welcome stretching as an integral part of their strength training program. Hence, we offer the choice of two unique stretching options evaluated in these studies.
For example, many of our fitness center participants perform a 20-second static stretch for the muscle they just strength trained right on the strength machine (see At-Machine Stretch photo).  Others perform a 20-second static stretch for each of the muscles they trained on the strength equipment by means of the StretchMate after completing a full-strength workout.  Instructed by our professional fitness staff, we even offer a third option.  Members can perform traditional static stretching if they so choose on a large mat in a comfortable area within our fitness center.   You may be wondering why we prefer static stretching.  According to the American College of Sports Medicine (ACSM), static stretching is a very safe, effective, and time-efficient means of enhancing our joint flexibility.  Our timesaving stretch protocol is performed between strength exercises and/or after completing the workout routine.  We recommend performing stretching two or three times per week.  Since it is an integral part of our resistance training program, our seniors appreciate the benefits stretching provides, for example, enhancing flexibility, increasing strength, easing muscle tension and lessening the probability of injury.
At-Machine Side Stretch
Rotary Torso Strength Machine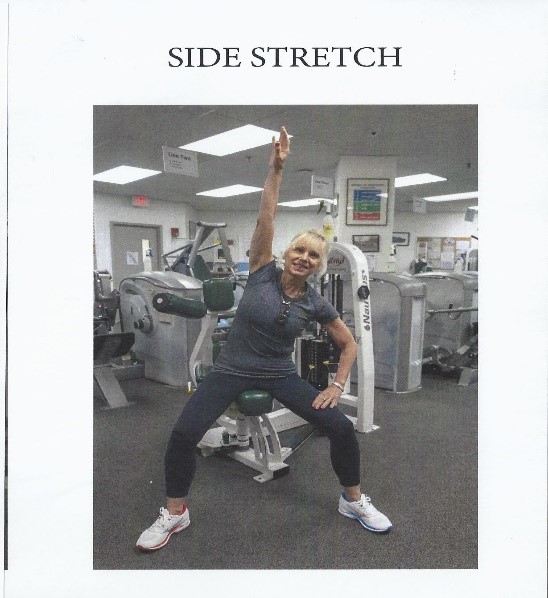 Quincy College's Comprehensive Exercise Program
If you would like to increase your flexibility and strength while taking part in a highly supervised, all-inclusive, time-efficient fitness program that includes cardiovascular exercise, please consider our Wayne Westcott, Ph.D. Center for Health and Fitness at Quincy College. We are located at President's Place, 1250 Hancock Street, in Quincy, across from the Quincy T-Station. Just call Rita at 617-405-5978 to schedule a tour, a complimentary training session, or, if interested, to learn more about our program registration process and cost. Free 1- and 2-hour parking is available on Hancock, Washington, and Coddington Streets as well as a parking garage next to the building for a nominal fee.
Rita La Rosa Loud holds a B.S. in Exercise Physiology with additional education in Sports Medicine and Athletic Training. She is NASM Certified and has been actively involved in the fitness industry for over 35 years. She is also an author and writes fitness related articles for various fitness publications. Currently, she is a Fitness Researcher and directs the COVID compliant, Wayne Westcott, Ph.D. Center For Health and Fitness at Quincy College. She can be reached at 617-405-5978 and is available for speaking engagements.