By Rita La Rosa Loud, B.S.
No matter your age, body type, and weight or whether you have a medical issue, physical disability, or an injury, fitness is for everyone. Even if you had a hip or knee replacement, a shoulder condition, or are experiencing back problems, arthritis or fibromyalgia, you fit right in! Maybe finances are a concern? Fortunately, most insurance companies reimburse for membership in an approved health and wellness site. Because certain health conditions may require medical clearance and personalized programming be sure to ask questions about the instructors' expertise in your specific area of concern.
Fitness At Every Age

For instance, at John Knox Lifecare Retirement Village, Orange City, Florida, a health/fitness study was conducted by Dr. Wayne Westcott, in which 19 elderly residents successfully completed 14 weeks of supervised resistance training. The study participants (average age 90) performed five Nautilus machines for one set of 8-12 repetitions each, twice a week. The results were impressive!

Residents made significant improvements in body composition (added muscle, lost fat), muscle strength, joint flexibility, and functional abilities. They tolerated the training method splendidly, reporting no injuries and less pain and discomfort, particularly in the lower and upper back, and neck. Moreover, they enjoyed the exercises tremendously resulting in greater physical function and quality of life.

Young at Heart Member Profile

Subsequently, see how, at their age, this older couple simply fit in fitness.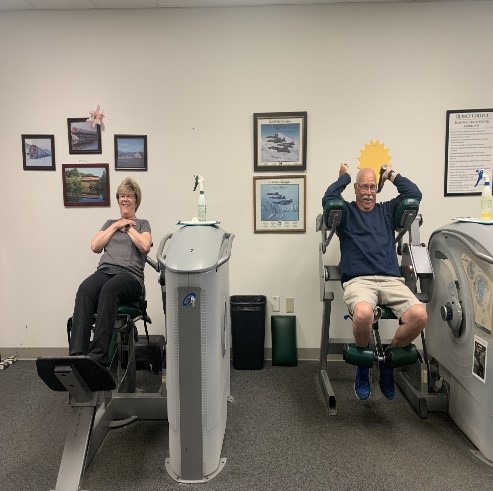 Pat and Dave Larsson, Ages 70
What attracted the Larssons to our group fitness program was the desire to be healthy and fit. They said resistance training "helped us to build muscle strength." In Pat's case, "It strengthened the muscles surrounding my knees, helping to maintain mobility." Since her college years, Pat engaged in various fitness programs. But Dave's work schedule prohibited him from doing so.

In January of 2016, after hearing about a research study on the effects of strength training and protein intake, they enrolled. Their newfound goal was to lose weight. It has been seven years and they are still going strong—"We discovered we enjoyed training together as it motivates us to make every effort to exercise. It has become our routine."

Today, among other activities, the Larssons play pickleball together. They agree: "It is fun to have a companion to exercise with. A group program can provide a positive and encouraging environment with both physical and mental benefits. You get to know others, exchange ideas, and engage in important social interactions."
Wayne Westcott, Ph.D. Center for Health and Fitness at Quincy College

Contemplating getting more active but want to feel like you fit in? Consider our health and wellness facility of supervised strength, cardio, stretching and functional training. We are located at President's Place, 1250 Hancock Street, across from the Quincy T. To schedule a tour, free session with a professional trainer, or to register, call Rita on 617.405.5978. Free 1- 2-hour parking is available (Hancock, Washington, Coddington Streets). A parking garage is next to the building for a nominal fee.

Rita La Rosa Loud holds a B.S. in Exercise Physiology with additional education in Sports Medicine and Athletic Training. She is NASM Certified, and has been actively involved in the fitness industry for over 35 years. She is an author and writes fitness related articles for various fitness publications. Rita is a Fitness Researcher and Directs the Wayne Westcott, Ph.D. Center for Health and Fitness at Quincy College. She can be reached at 617.405.5978 and is available for speaking engagements.